oh blog,
i got a little carried away there. i am sorry. this will be a real post. i promise. now you must really know what it is like for me to live here and deal with everything. i am writing some post cards, so if you want one and i don't know that you want one, let me know that you want one and i will send one to you! i have a bunch left. today was the last day of the school year. a bunch of teachers are leaving, so we had a little ceremony for them, and it was sad for everyone. BOTH of the english teachers i work with are leaving, so i am going to have to get to know 2 new teachers. that is going to be exciting and fun, a good change of pace also. let's start this post off with the celebratory bento lunch i was given today, which was honestly the best bento i have had here so far: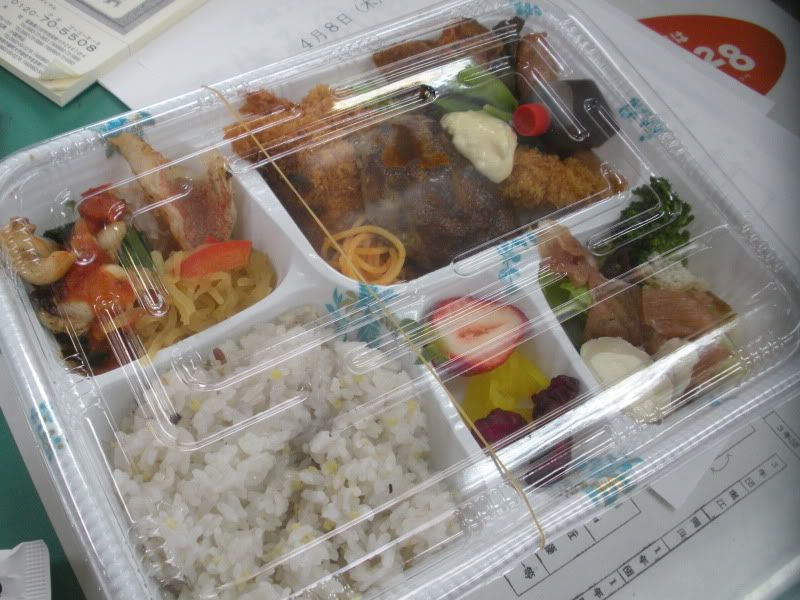 i realize now i should have taken the plastic off before photographing, but i got too excited. this bento has a little bit of everything. let's go clockwise starting with the rice. it had little mushrooms in it for flavor. next is a tasty piece of fish, two pieces of chewy squid, some shredded carrots and an unidentified vegetable. there was also tomato in that part, which i was ok with. next is where the action really happens. big piece of tempura shrimp with some tartar saucce on it, a hamburger patty with seperate burger sauce and little spaghetti noodles underneath. also there was a creamy potato croquette and a piece of fried chicken. plenty of cabbage and lettuce, also. next was the most interesting part. it had a broccoli piece, some strips of raw, thinly sliced bacon, a sweet mochi cake and some more greens. last were the necessary pickled vegetables to eat in between bites, and then a big surprise - half a strawberry. this was great. i would eat it again.
okay, next picture.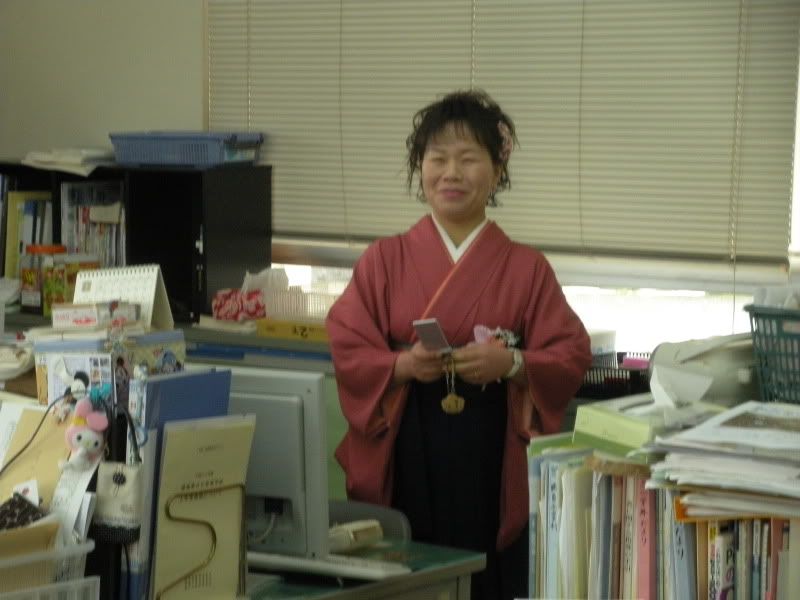 this is the 8th and 9th grade english teacher on graduation day. her class was graduating and going to high school, so she wore a traditional kimono. i liked this shit because it has the traditional kimono clothing but the modern cellular telephone, so it shows the stark contrast of japanese culture. she is going to the middle school in the next town starting in a few weeks.
and lastly, the defining point of this entire post, the thing that made me want to blog! here it is. this will be interesting to you because it features some creations that exist only in japan.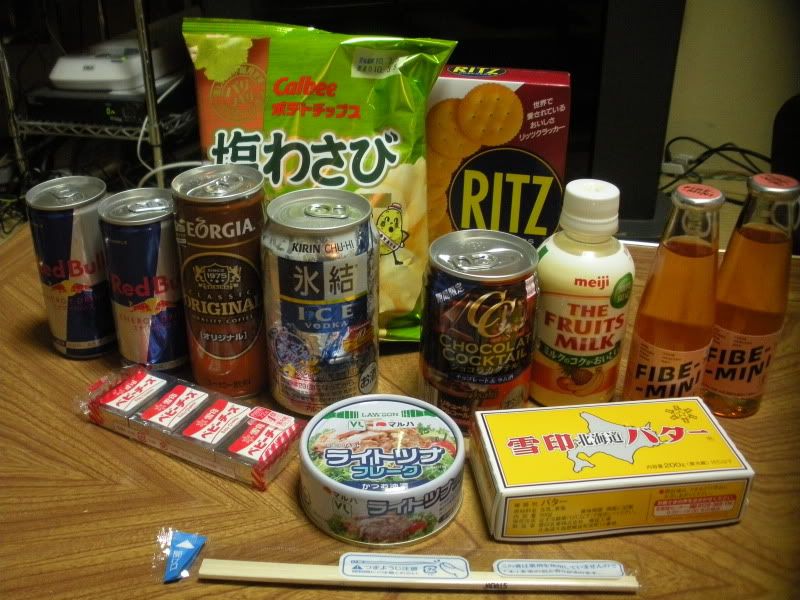 so i went to the lawson plus across the river last night, because i finished the sopranos two days ago and i didn't know what to do. i decided to just buy things i wanted and needed. here is what i came up with. let's start in the back, and go from left to right. first are some wasabi flavored potato chips, featuring the little potato guy mascot, who wears a pork pie hat and always looks surprised to be an animate potato-human hybrid. then there is a box of ritz crackers, which would be familiar to you until i tell you that it contains 3 rolls of crackers, instead of two, and they are arranged horizontally, not vertically. while you consider that, it should not be too difficult to understand red bull. these cans are small, maybe 2/3 the height of an american can but slightly thicker. they are 200 yen a piece. after that we have a can of original coffee which i drank this morning with my breakfast of a banana and a toasted whole wheat bagel with creme cheese. for these ceremonies, you mostly have to stand still and bow a few times, so it can get pretty boring and i used the coffee to keep me conscious. okay, now we have something i only bought because i saw it on TV, and that is a can of vodka. i think it might be carbonated? i haven't tried it yet. i will let you know. when i went to get the can of vodka, i accidentally saw the next one, which is a chocolate cocktail, so i had to buy that too. maybe it is a chocolate flavored alcoholic drink? i am kind of excited about this one. next is THE FRUITS MiLK, which as you probably already understand, is fruit-flavored milk. it has a pineapple, a round fruit, and some bananas pictured. i don't think this can be bad. next is FIBE-MINI which is a sweet little orange-colored drink that is about 110 yen a piece and says it has fiber in it. another american teacher i met in tokyo turned me onto these and they are the perfect accompaniment to any food item. after i bought these 2, i found a case of 10 for 880 yen at the supermarket, so i had to buy that too. now we have 4 pieces of baby cheese rectangular solids to go with the ritz crackers, a can of light flake tuna, and some butter from hokkaido. the guy at lawson thought it made sense to give me chopsticks with this purshace, i guess because i'm supposed to eat the tuna right out of the can? no way, that's for a tuna salad sandwich. this is the same guy who always asks if i have point card who i have to say no to every time. it's probably habit as a product of his strenuous lawson cashier training.
okay well that is it! i hope you liked my weird items i bought at a japanese convenience store. what else do you want to see me do? i dont do much because i have no friends and im trying to save some money. only a few more months until i get back to america. see you then!
great!